Možnosti vesnice can be translated as The potential of villages. It is my collaboration with Michaela Hečková – the author of the concept and the writer. We travelled for a year visiting the best new architecture and public space interventions in small villages in Czechia and this book is a summary of the findings. It portrays the people behind the project and it studies the locations in detail accompanied by photos taken by me specifically for the book during our stays.
Architecture and urbanism are most often associated with cities and larger scale. It was our intention to showcase that the scale is not so important here. Quality projects are being built all round the country and the importance of village mayor's collaborating with industry professionals in these disciplines is more obvious than ever. One key aspect of this debate or one essential force that influences the seriousnesss and demands of urban development is the tendency of city people to move to countryside. It is a phenomenon obviously originating in the crisis, in the rising expense of city life and the need for families to have some sort of quality of life that does not suffer from the complications of cities. These people though have higher needs and expectations. They need services, products and social life that traditional villages just don't provide. This forces village to grow, to take their new life seriously and to invent new ways to both make their new residents satisfied and to connect them better with the hardcore locals that lived there for generations. Our book looks at this process and observes 12 different scenarios of how it manifests itself in reality.
There is something incredibly attractive for me about serial production be it industrial design, furniture or books. The whole concept of one idea and one aesthetic multiplied.
Nevřeň – the village that leveraged the potential of their local kaolinite mine to create a major tourist attraction and launch a multifunctional hub in a controverial building that provides a cultural meeting place for the locals and a visitor center for the new tourism.
Hodslavice – a small village with three dominant churches and a brave update to one of their interiors that blends the character of the building with contemporary interior design principles and components.
Villages vs architects and urban planners. It is a seemingly disconnected relationship that misses mutual motivation due to absence of scale. But as we have discovered throughout the research and through experiencing the select good collaborations of villages with architects and urbanists we safely conclude that scale is not the problem – good architecture and public space innovation happens no matter what scale it is at.
Travel – question – shoot – write – design
Our work on the book is all based on an obsessive methodology of research, testing, travel and spending time on location and in discussion with people involved in the projects and their locations. We spent months studying potential projects through existing literature, competition listings and quality online media within the subjects of architecture and landscape architecture. We then spent six months on the road (on and off) to visit all locations, experience the architectural projects, photograph them in our specific way that is standard throughout the 12 chapters and do interviews with essential people behind the projects. It is a mixture of the authors themselves, of mayors and of local initiators who make things happen.
The actual design of the book was in concept and in sketch this whole time so pieces of text written and images taken are all connected and directly related on every single spread of the book. There are no fillings and all content is intentional and original.
Bratčice is a small village south of Brno. The mayor has collaborated with landscape architect Dan Šamánek to perform an incredible conceptually and technically unique reinvention of the village center. They turned a swamp land into a forest and a lake connected with walkways and supported by a self-sufficient underground water storage and distribution system. Who would have thought you can have a forest instead of a village square.
The traditional wine cellars of this southeastern Bohemian region used to be small buildings partially hiding in the hill sides. This visionary project has shifted the scale, quality and architectual expression of these buildings to another level. The Lahofer winery by Chybik+Kristof architects.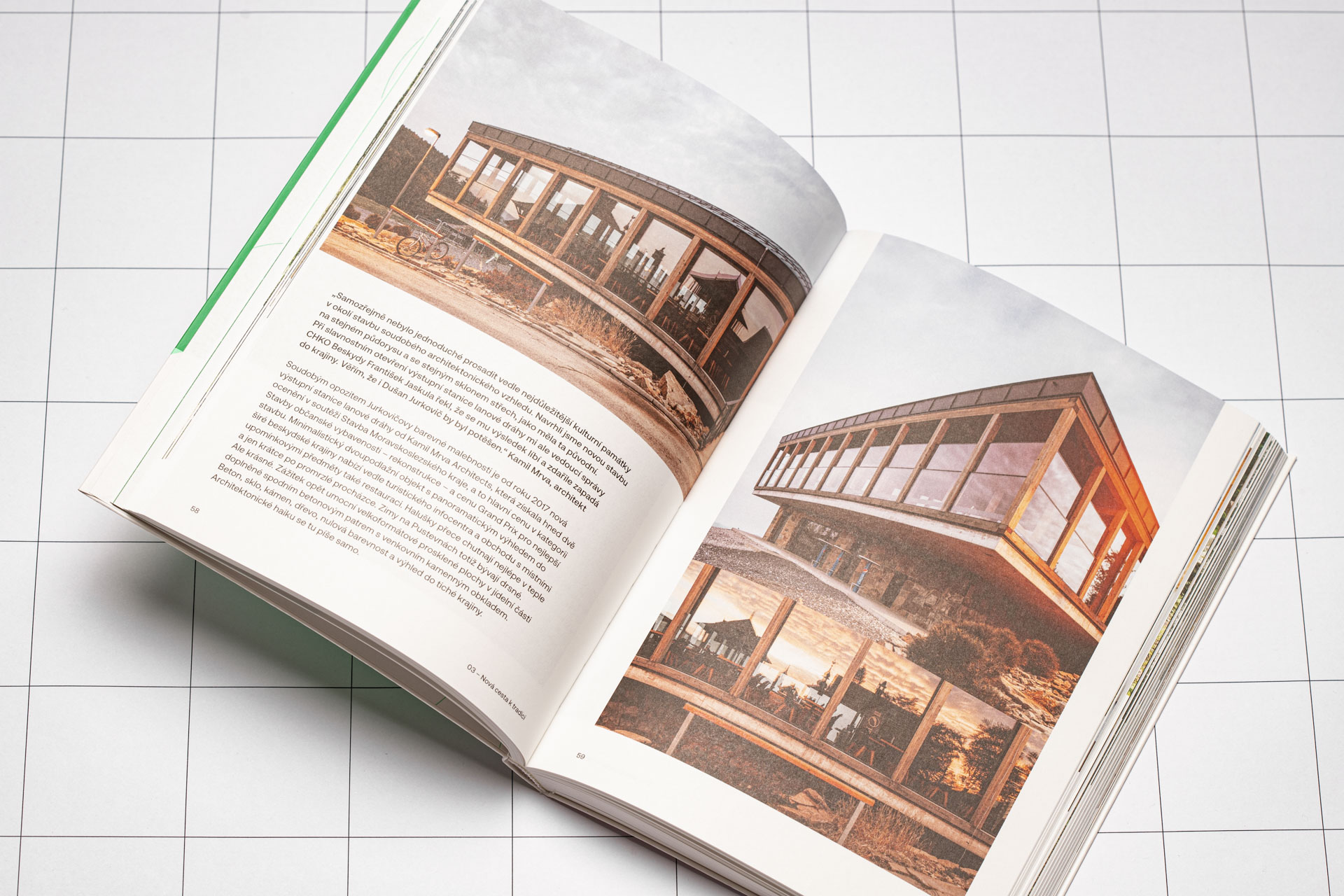 The new funicular station on Pustevny by Kamil Mrva Architects.
Trautenberk brewery building by ADR architects nods to the traditional material and forms used in the region but applies them to a more functional and people-oriented purpose.
The 12 chapters of the book each address a village in a range of counties in Czechia. Each location has its authors, its stories and its unique character. To make the chapters stand out and for the book to be united in its graphical expression I designed an illustration language and a series of 12 images that sum up the content of the story or the main highlight of the location.
Meziměsto publishing house
Michaela Hečková, Matej Chabera
Graphic design, illustration, typesetting, photography, pre-press
Architecture studios credits
Mjölk architekti, Ateliér M1 architekti, Kamil Mrva Architects, ADR architects, OK PLAN architects, Objektor architects, Chybík+Krištof architects, Dan Šamánek, Jakub Chvojka, Jakub Červenka, AND architekti
Best czech documentary literature 2021, Ji.hlava (nomination)